| | |
| --- | --- |
| Date: | 09-19-2008 |
| Time: | 15:59 |
| Last: | $0.83 |
| High: | $0.83 |
| Low: | $0.68 |
| Volume: | 102212 |
| Change: | +0.13 |

Block A program extended
August 28, 2008
Pictures of Seismic Acquisition
August 25, 2008
Prospect Presentaion
August 21, 2008
Operations Update
August 18, 2008
Seismic progress Status
September 11, 2008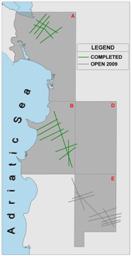 Drilling and Exploration World - November 2007
Focus Exploration Central Asia, API - 2007
Manas Petroleum is an international oil and gas company with primary focus on exploration and development in south-eastern Europe, Central Asia and South America.



In Albania Manas has developed a giant exploration project with a total resource potential (P50) of 2.9 billion barrels (independent resource evaluation, Gustavson, 2008). In Kyrgyzstan Manas has signed a US $56 million farm-out agreement with Santos a large independent Australian oil and gas producer covering its 1.2 billion barrels in place, light oil play (independent resource evaluation Scott Pickford, 2005). The development of the company's neighboring Tajikistan license is now covered by an option farm out agreement also with Santos. In Chile Manas and US partner IPR farmed out a large natural gas exploration project to a consortium of local operators.



Manas is currently maturing its enormous resource potential by acquiring seismic prior to drilling.